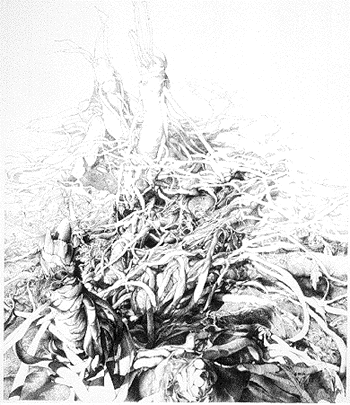 "PHILODENDRON FANTASY"
Ink on Fabriano cold pressed paper, Approx. 22" x 18". © 1992

The subject for this drawing is a tangle of giant philodendrons near Orlando, Florida. These plants are the stuff of which nightmares are made. Cousins to the unassuming house plant, they have woody stalks as big as your forearm, and cover the ground like coiling snakes. This drawing is rendered in a combination of contour, hatching, stipple--and just about everything between--to convey the hot midday light and subtle details.

"Philodendron Fantasy" received the award of excellence for drawing in the 37th Biennial National Competition of the National League of American Penwomen, Cork Gallery, Lincoln Center, New York. It is part of the artist's collection.


| | |
| --- | --- |
| | |
| "HOW MY GARDEN GROWS" | "GODDESS" |



All design and illustration in these pages and linked files are
© Marnie M. Montgomery.